Sign up for our Email Newsletter to receive new event information and event updates right in your In Box.
2017 Show Schedule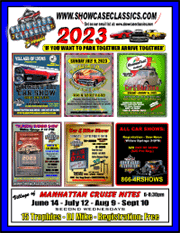 WELCOME TO SHOWCASECLASSICS.COM
Showcase Classics is a car show event company owned by car enthusiast Bob Gamboa. His life has always evolved around cars as an occupation and as a hobbyist. Car enthusiasts are people who can appreciate and enjoy classic cars and all the nostalgia that comes with them.

read more about Showcase Classics

JOIN THE SHOWCASE MOTOR CLUB

For only $30 per year you can become a Member of Showcase Classics and receive the following:

» $5 Rebate Per Show (Given at trailer)

» Automatic Pre-Registration Price for All Shows

» Eligible for Future Off Season Private Events

» Discount on future Showcase Products

» Newsletters via Email