Sign up for our Email Newsletter to receive new event information and event updates right in your In Box.
2016 Car Show Schedule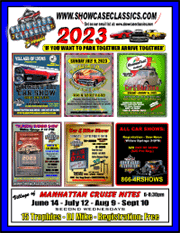 Showcase Classics 2016 Show Information
Car Shows
All of our shows are premium events featuring 33 classes with a large 1st, 2nd, and 3rd Place trophy awarded in each class. We bring a minimum of 100+ trophies and 100+ custom dash plaques. In addition, we give out a Participants Choice Award (decided on by the participating registered vehicle owners), and the sponsor's Best of Show Trophy. All shows are judged using a 100 point system.


Rainouts
All of our Car Shows are Rain or Shine. Sometimes the sponsor will cancel a Cruise Nite at the last minute. We will make every effort to post cancellations on our Web site, and leave a message on our 24 hour Hotline at: 1-866-4RSHOWS (1-866-477-4697)


Pre-Registration
Pre-Register for shows and save $5 at each show! Simply click on the links below, print, and fill out the pre-registration form. Then sign and return it with your check or money for $15.00 payable to Showcase Classics, Inc. (Please note that we must receive your pre-registration form & payment at least one week before the date of the show.)



Remember, Showcase Motor Club Members are exempt from pre-registration. So, all you Showcase Members get the $5 savings on every show without doing a thing!

Many shows feature different activities, additional awards, cash prizes and additional events so be sure to check each one individually. Door prizes, raffles, 50/50 are also part of most events. See our calendar of events, and each individual event page for more details.


Cruise Nites
At all Cruise Nites we award trophies to the 10 Koolest Vehicles, chosen by the sponsor. In addition, and new this year, we are now awarding a Participants Choice Award (decided on by the participating registered vehicle owners) at all Cruise Nites!

Registration for Cruise Nites is always FREE and hours at most events are 6pm to 9pm.





We're looking forward to seeing you soon!